Fourth Annual Keiki (children's) Fun Day
March 30th, noon to 9 p.m.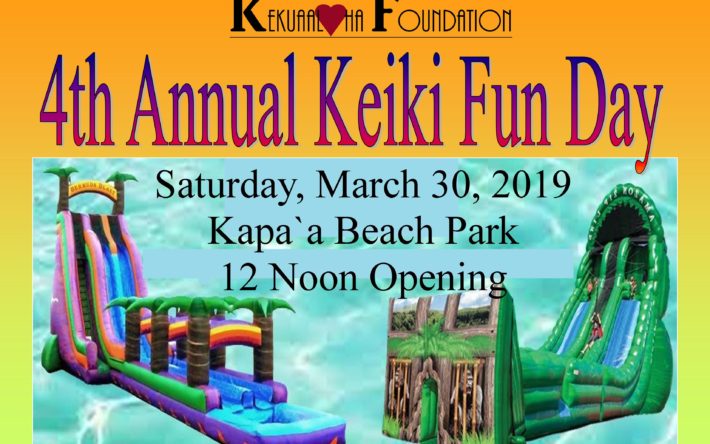 The Kekua Aloha Foundation invites families with children to join in sharing  food, fun, and fellowship at Kapaa Beach Park on March 30th from noon until 6 p.m. Listen to music from Kapaa Middle School band & choir and Candice & Co. Watch Salsa dances, Kapaa Elementary School Kid Fit Crew and more. Enjoy the slide and glide inflatable fun. Festivities start at 12 noon and last into early evening when the Annual iSiva Youth "Burn Out Suicide" Fireknife competition, drumming exhibition and special presentations from 2010 World Fireknife Champion Rex Tiumalu and iSiva Fireknfie Crew are featured.
Cost is $15 for an all day pass. A portion of the proceeds made at the event will go to the American Foundation for Suicide Prevention – Hawaii.
This is a drug, alcohol and smoke free event.