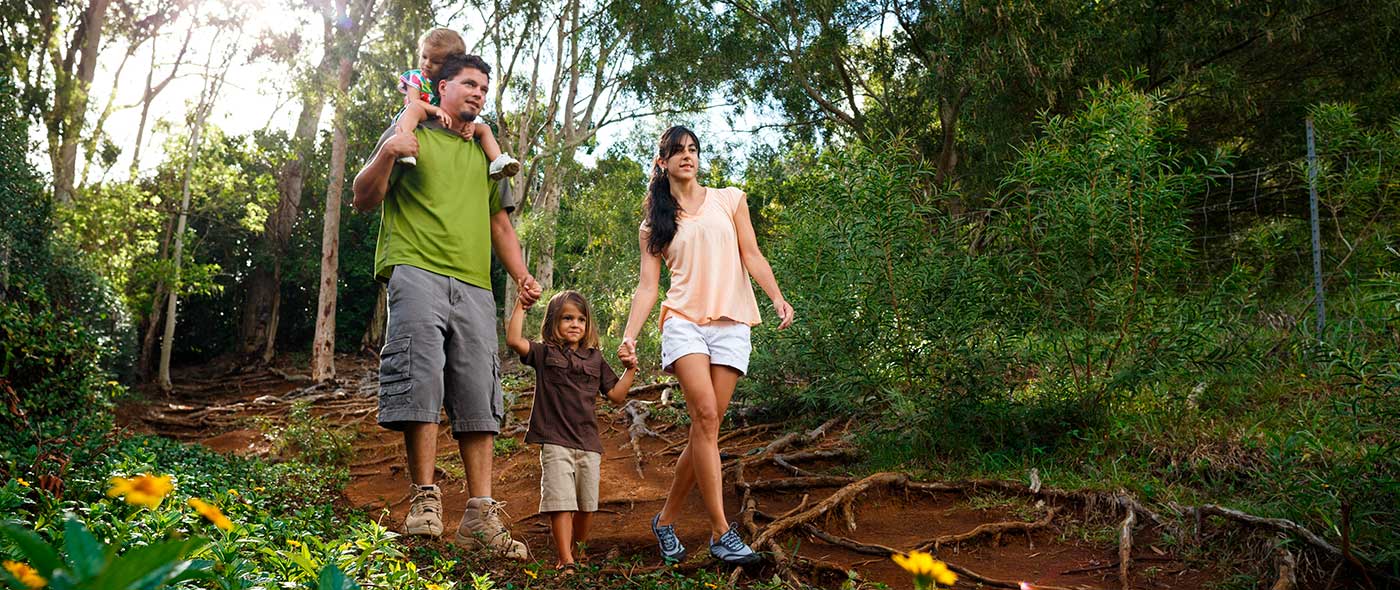 Sleeping Giant Trail ©Gelston Dwight
Hiking on the Royal Coconut Coast
Hiking is an incredible way to experience the island and see beautiful interior landscapes of mountains and waterfalls. Imagine life before civilization as you trek deep into the jungle, and experience the islands natural splendor. A variety of hiking is available; there are kid-friendly trails as well as challenging trails that traverse mountains and streams. Pick up a guide book so you can easily spot and identify native wildlife, flora and fauna.
Trails are identified with signs and well maintained. Trail maps are available through the Department of Land and Natural Resources and the Division of State Parks or on this website. Always be sure to pack plenty of water and snacks, even if only venturing a short distance. Avoid hiking alone, but if you do always tell someone where you are going and when you expect to return. Do not drink untreated water from streams.
An important note about camping on Kauai
Camping on the Island of Kauai is only allowed at select State and County parks and camping at either type of park requires that you obtain a permit. While these permits are very affordable, the fine for camping without one can be as high as $500. For more information about camping in a Hawaii State Park, visit the official State Parks website, and for information about camping in Kauai County parks visit the county website — both sites contain great information for campers.
Discover Fun Activities on The Royal Coconut Coast...
Browse Some of RCCA's Members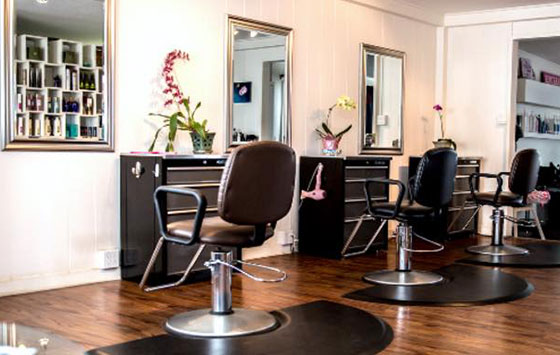 Salon J Kaua'i is owned and operated by Jeanette Huttger with the assistance of her daughter Jackie Lopez. Jeanette is a stylist and has been working in a salon since she was 13. Jackie is an Esthetician and massage therapist who grew up on Kauai and followed in her mother's footsteps. Together, they provide a wide variety of beauty and spa services from haircuts to skin care treatments, waxing, makeup & bridal services. Look for the big Pink J sign along the Ocean side of the main highway in Kapa'a. Visit the website or call to book an appointment and be sure to follow them on Social Media for informative beauty tips.
4-940 Kuhio Hwy. Kapa'a, HI 96746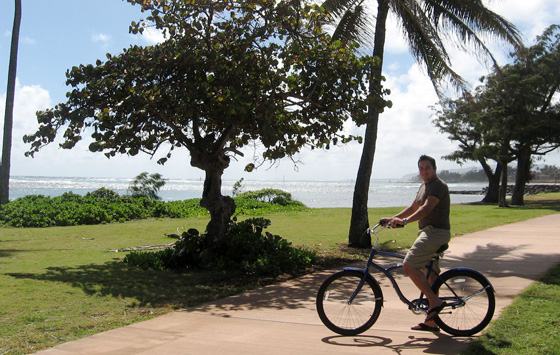 Coconut Coasters Beach Bike Rentals in Kapa'a offers a full selection of TREK brand bikes. The ride on the all coastal path offers breathtaking views. Covered picnic areas, bike racks, and comfort stations are available while you visit restaurants, shops and amazing beaches on this self-guided ride on the Coconut Coast.
4-1586 Kuhio Highway, Kapaa HI 96746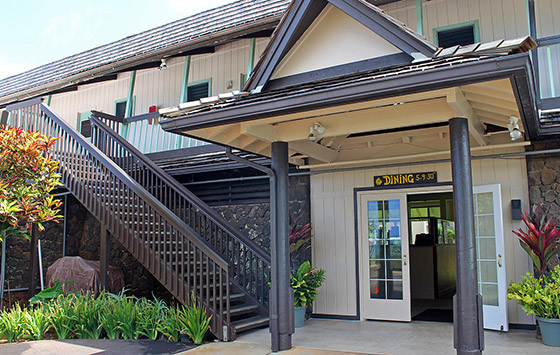 Oceanfront Dining on Kauai's Coconut Coast! Looking for a great meal without breaking the bank? The Bull Shed is a family favorite, serving up Kauai's best steak and seafood in a cozy oceanfront setting. Come and find us in Waipouli at the Mokihana for the finest food and service in Kapaa!
4-796 Kuhio Highway, Kapaa, Hi 96746