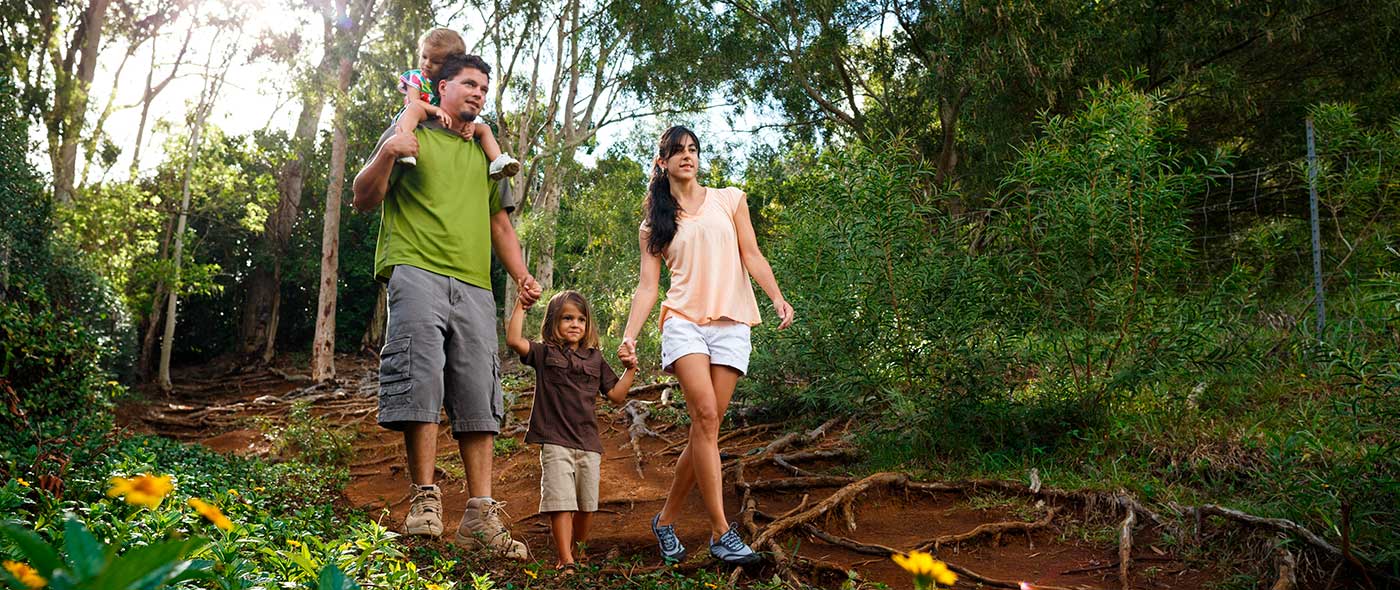 Sleeping Giant Trail ©Gelston Dwight
Hiking on the Royal Coconut Coast
Special December 6th notice:  Stay off trails for the next few days due to a flash flood watch for the Hawaiian Islands. Getting caught caught in a slide or swollen stream is a probability not to be tested.
Hiking is an incredible way to experience the island and see beautiful interior landscapes of mountains and waterfalls. Imagine life before civilization as you trek deep into the jungle, and experience the island's natural splendor. A variety of hiking is available; there are kid-friendly trails as well as challenging trails that traverse mountains and streams. One of the most popular hikes in this region is the climb to the top of Nounou Mountain also known as Sleeping Giant, for its remarkable ridge profile. Remember sunscreen, hat, water and sturdy sports shoes when hiking on Kauai and pick up a guide book so you can easily spot and identify native wildlife, flora and fauna.
Trails are identified with signs and well maintained. Trail maps and trail descriptions are available online through Hawaii's Department of Land and Natural Resources, Division of Forestry and Wildlife. Always be sure to pack plenty of water and snacks, even if only venturing a short distance. Avoid hiking alone, but if you do always tell someone where you are going and when you expect to return. Do not drink untreated water from streams.
An important note about camping on Kauai
Camping on the Island of Kauai is only allowed at select State and County parks and camping at either type of park requires that you obtain a permit. While these permits are very affordable, the fine for camping without one can be as high as $500. For more information about camping in a Hawaii State Park, visit the official State Parks website, and for information about camping in Kauai County parks visit the county website — both sites contain great information for campers.
Discover Fun Activities on The Royal Coconut Coast...
Browse Some of RCCA's Members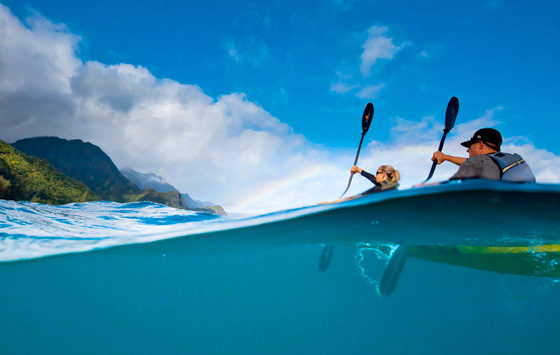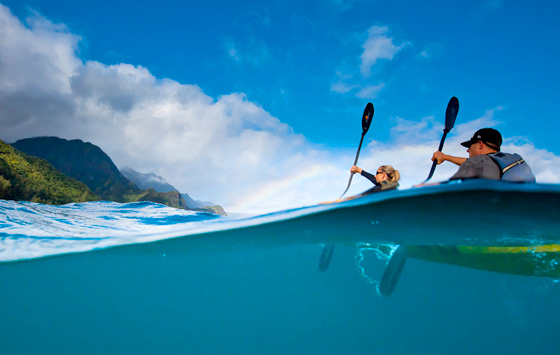 National Geographic Winner! Family friendly Hawaiian Swim Hole & Sacred Falls Tours from our Wailua River Marina on the water location. Paddle & Snorkel Hanalei River & Bay. Summer Na Pali by sea kayak. Island-wide Hiking Tours. SUP Rentals & Lessons. Camping Outfitter: Gear + Storage + Na Pali Parking & Trail Shuttle. Vacation Rentals.
3-5971 Kuhio Highway, Bldg #3, Kapaa, HI 96746