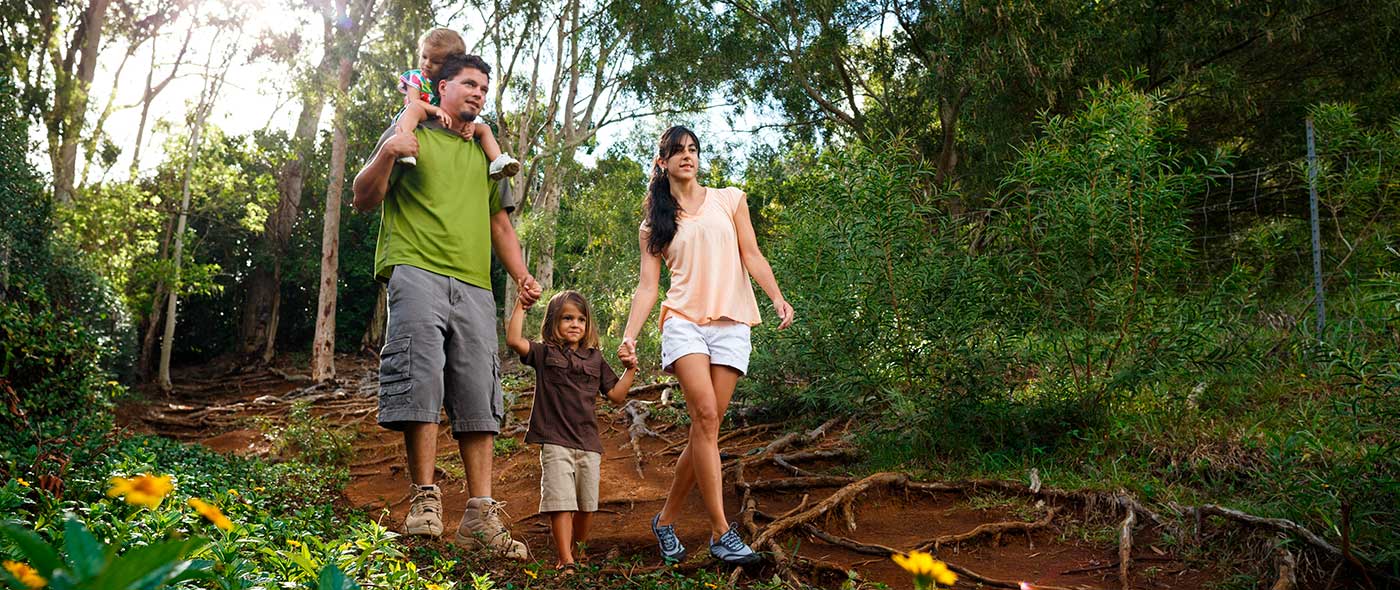 Sleeping Giant Trail ©Gelston Dwight
Hiking on the Royal Coconut Coast
Hiking is an incredible way to experience the island and see beautiful interior landscapes of mountains and waterfalls. Imagine life before civilization as you trek deep into the jungle, and experience the island's natural splendor. A variety of hiking is available; there are kid-friendly trails as well as challenging trails that traverse mountains and streams. One of the most popular hikes in this region is the climb to the top of Nounou Mountain also known as Sleeping Giant, for its remarkable ridge profile. Remember sunscreen, hat, water and sturdy sports shoes when hiking on Kauai and pick up a guide book so you can easily spot and identify native wildlife, flora and fauna.
Trails are identified with signs and well maintained. Trail maps are available through the Department of Land and Natural Resources and the Division of State Parks or on this website. Always be sure to pack plenty of water and snacks, even if only venturing a short distance. Avoid hiking alone, but if you do always tell someone where you are going and when you expect to return. Do not drink untreated water from streams.
An important note about camping on Kauai
Camping on the Island of Kauai is only allowed at select State and County parks and camping at either type of park requires that you obtain a permit. While these permits are very affordable, the fine for camping without one can be as high as $500. For more information about camping in a Hawaii State Park, visit the official State Parks website, and for information about camping in Kauai County parks visit the county website — both sites contain great information for campers.
Discover Fun Activities on The Royal Coconut Coast...
Browse Some of RCCA's Members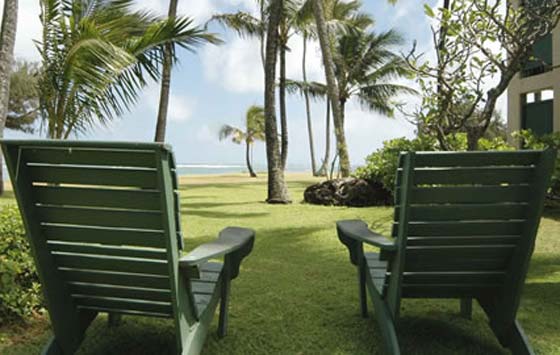 Hotel Coral Reef an island style boutique hotel located at the northern end of Historic downtown Kapaa. Featuring 16 custom designed oceanfront rooms positioned aproximately 50 feet from the waters edge along the royal coconut coast. Each guest room features a private balcony, Jacuzzi jetted bathtub with optional King bed or two queen beds, air conditioning, television, DVD player and our signature mood lighting. Guest amenities include a private swimming pool, complimentary wifi complimentary beach chairs and cooler rentals and morning refreshments and coffee service daily. Come and experience Kauai's little gem.
4-1516 Kuhio Highway, Kapaa, Hawaii 96746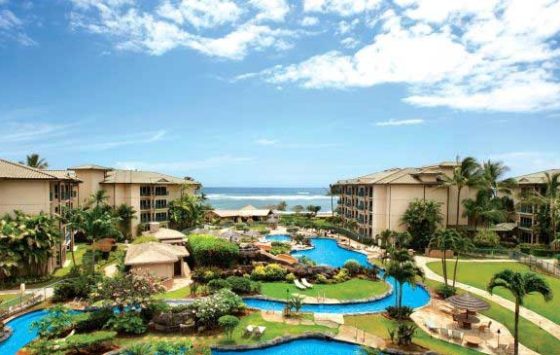 Outrigger Waipouli Beach Resort is a collection of luxurious, spacious vacation condos with superbly appointed kitchens, washer/dryers and central air-condition. The resort features a fantasy swimming pool with water slides and cascading waterfalls. Its location rivals the best Kauai hotels for comfort, convenience and access to dining, shopping, and activities.
4-820 Kuhio Highway Kapaa, Hawaii 96746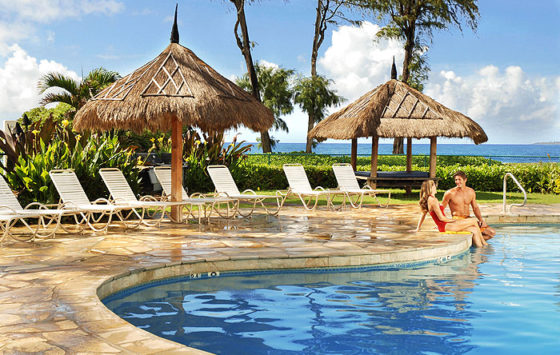 Let the sounds of the ocean rock you to sleep every night at this intimate, low-rise beachfront hotel. Located on Kauai's Coconut Coast, Aston Islander on the Beach is set amid six acres of beautifully landscaped gardens and swaying palm trees. Both contemporary and nostalgic, Aston Islander on the Beach features thatched huts, hand-carved furnishings and plantation-style décor.
440 Aleka Place, Kapaa, HI 96746