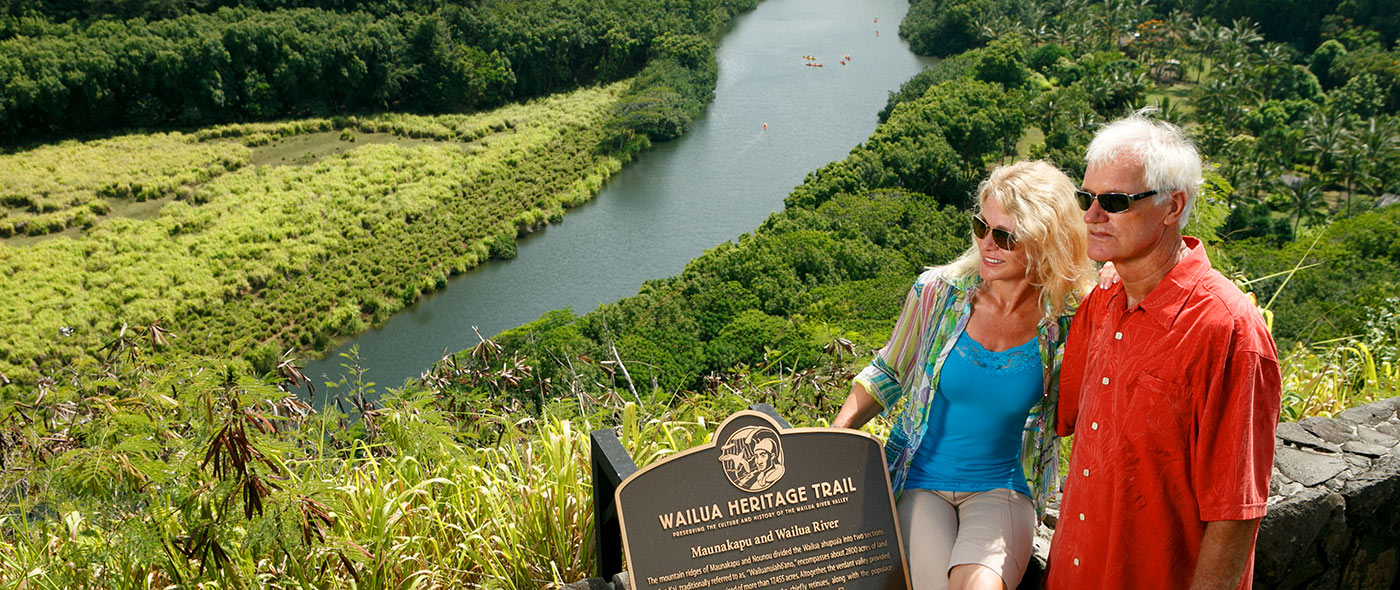 Wailua Heritage Trail ©Gelston Dwight
Visit the Historic Sites of the Royal Coconut Coast
The Royal Coconut Coast boasts numerous historical and cultural areas. Since this land was all considered sacred, it was prime real estate for ceremonies. Seven heiau, temples or shrines, were built on this sacred ground, they formed an arc starting on the shores of the Wailua River, heading up the mountain to Wai'ale'ale, and ending on the west side of the island. Many heiau and preservation sites dot the East side; some of the stone structures still exist, have interpretive signage and are open to the public. These heiau are still sacred lands so please treat the area with respect when visiting, do not leave anything behind and do not move any rocks.
On the southern shore of the Wailua River once stood Hikina a ka la, meaning Rising of the sun, because the stone structure used to light up when the bright rays of the morning sun rose out of the Eastern sea. The largest heiau that remains today is also along the Wailua River, it was called Malae, and was used for ceremonies. The oldest heiau on Kauai is nearby in the mountains of Wailua, said to have been built by the menehune, a race of little people in Hawaiian legends.
A heiau is a sacred place to this day, so always proceed with caution and follow all posted rules and regulations.
Another very significant place in Hawaiian culture and history is in the Wailua River State Park. There you can see the legendary birthplace of ancient nobles of Kauai. There are two large, smooth birthstones, which was actually used to support the mother during child birth. It was mandatory that all the kings of Kauai be born here; King Kaumualii was one of the many chiefs born on the Birthstones. Royalty from neighbor islands would travel here to give birth at the birthstones of Holoholok'u. The Bell Stone still remains, a reddish stone that makes a unique sound when struck. This historical landmark was used in ancient times by a kahuna, or priest, to announce the birth of royalty.
The entire area along the Wailua River was once only reserved for royalty. Now, you can experience the river by kayak or boat. Venturing up the Wailua River by boat, you can explore the Fern Grotto, a lava rock grotto, embedded with tropical ferns. If you choose to kayak there is a place to dock your kayaks and take a short hike to a secret waterfall. The Wailua River is significant being the largest navigable river in all of Hawaii. It is fed by numerous rivers and streams, all stemming from the crater of Mount Wai'ale'ale, located at the heart of Kauai in the center of the island.
A drive up the mountain and you will find glorious views of mountains and waterfalls, with the Wailua River below. Stop at the scenic overlook of Opaeka'a Falls, which means "rolling shrimp", named because of the freshwater shrimp that used to be prevalent in the stream. Across the street from the overlook is access to Kamaokila Hawaiian Village. This site is now an authentic recreation of ancient Hawaiian life. Once home to the last king of Kauai, the area now showcases the Hawaiian communal lifestyle, with traditional huts and Hawaiian games available for the kids.
Continue past the Opaeka'a Falls overlook and you will venture into a typical Kauai neighborhood. If you drive past the houses and streets you will find another hidden gem. The Keahua Forestry Arboretum is a real treat for nature-lovers, showcasing plenty of monkey-pod, eucalyptus and mango trees. There are many trails in the area and a stream with accessible pools to take a dip.
Browse Some of RCCA's Members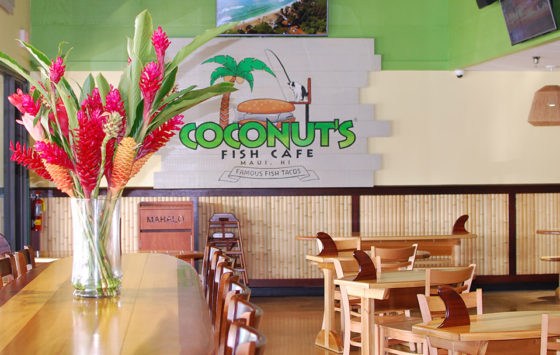 Coconut's Fish Cafe is a family-friendly restaurant that serves excellent food with aloha. Our goal isn't simply customer satisfaction; we want you to feel welcome in our Coconut's ohana (family). Come and enjoy some of our award-winning, health-conscious food and join our Coconut's ohana today.
4-831 Kuhio Highway #420 (Safeway/Ross Shopping Center) Kapaa, HI 96746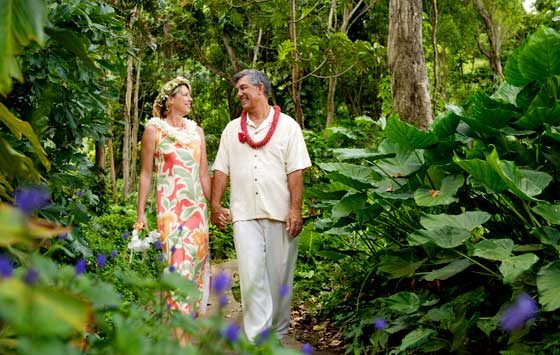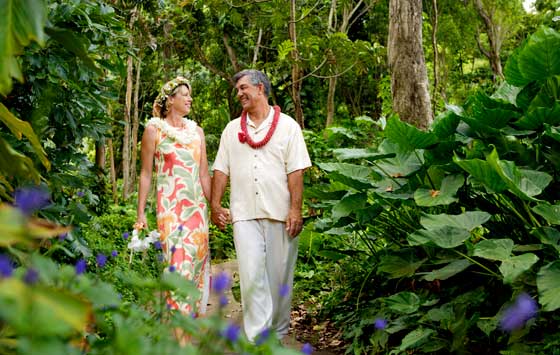 Choosing the Island of Kauai for your destination wedding is the perfect way to start the planning of your special day. Kauai is truly an island of love, and Wailua's Fern Grotto and our own Tropical Paradise offer two of the most unique wedding sites in the world.
3-5971 Kuhio Hwy. (Wailua Marina), Wailua, HI 96746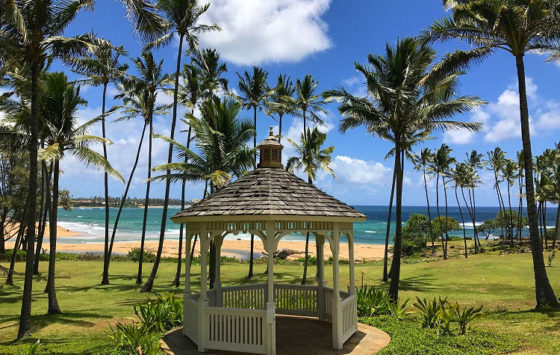 At Hilton Garden Inn Kauai Wailua Bay, we want to make your Kauai wedding as stunning, special, and stress-free as possible. That's why you'll be working with our professional catering team. They will guide you through our gourmet catering menus, beautiful décor options, and seating plans. For intimate wedding ceremonies, we feature a gorgeous, beachfront gazebo that is a beautiful venue for exchanging vows for up to 50 guests. Indoors, we're able to accommodate up to 350 guests in our Kuhio Ballroom, which features 7,000 square feet of event space, making it a fully customizable Kauai wedding reception venue. Our hotel can also provide guest rooms for wedding guests, special packages, and surprise perks for the bride and groom.
3-5920 Kuhio Highway, Kapaa, Hawaii, 96746