Coconut Coast Events
Every week on the Royal Coconut Coast there are concerts, craft fairs, special performances, farmer's markets, interesting lectures, cultural demonstrations and delightful local events. The monthly First Saturday Art Walk is highly popular. Several major events also come to the area throughout the year, providing full weekends of festival-fun. And, there are a number of community events that always welcome visitors. Check out our ongoing list of featured events, and don't miss going to KauaiFestivals.com for a complete list of island-wide happenings.
May 14 to June 10th noon to 4 p.m.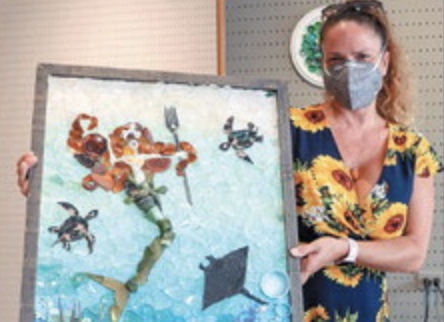 The Kauai Society of Artists (KSA) Fourth Annual Washed Up Marine Debris art show (Co-sponsored with Surfriders Kauai),  opens May 14th and extends through June 10th. Located at the Kukui Grove Center KSA gallery in Lihue, the show features pieces that highlight artists who have created unique and captivating art using man-made marine debris as a way to educate consumers and spark change.

On May 14th the show opens with a Meet-the-Artists reception, from 5 to 8 p.m.  The exhibit will be available for viewing daily through June 10th, including June 8th, designated as World Oceans Day, a day set aside by the United Nations for humanity to celebrate the ocean.
Viewing hours are from noon until 4 p.m., Sundays through Saturday. Friday hours are from noon until 7 p.m.
KSA is an active arts organization for all visual artists living and creating on the beautiful and inspiring Garden Island of Kaua`i.
Pictured here, artist Amy Vanderhoop shows her entry,"Namaka" with glow in the dark pigments. Photo credit: Dennis Fujimoto, staff reporter and photographer, The Garden Island, dfujimoto@thegardenisland.com (808) 245-0453
May 28th and 29th, 7:45 to 11 am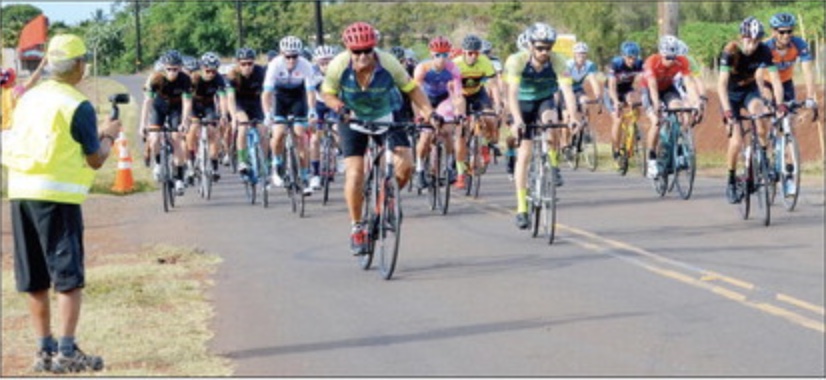 By Dennis Fujimoto, staff reporter, The Garden Island Newspaper.
KEKAHA — Organizers of the Pedal to the Meadow bicycle race and ride announced that registration is now open for the bicycle hill climb race from Keakaha up to Koke'e on Saturday, May 28.
Registration can be done online, and entry fees vary by deadline. Additionally, a required USA Cycling license can be purchased during online registration.
"Pedal to the Meadow was born in 2010, and was held annually until COVID-19 forced a pause," said Race Director Binney Williamson, MD. "Last year, the race was a virtual challenge with the awards ceremony on Zoom…fun, but not the same. So, we're optimistic about holding the race safely again, in person."
Organizers expect about 100 cyclists from Kaua'i, the neighbor islands, and the U.S. continent to participate when racers start the 16-mile climb at 8 a.m. on the old cane haul road in Kekaha. They follow the rim of Waimea Canyon and finish at Kanaloahuluhulu Meadow in the uplands of the Koke'e State Park. The climb is an elevation gain of more than 3,800 feet.
Pedal to the Meadow organizers remind motorists to watch for bicycles from the intersection of Koke'e Road and Waimea Canyon Drive all the way to the Koke'e Lodge and Museum area.
Cyclists must obey all rules of the road, but they will be focused on racing and may move quickly to avoid hazards, and may be in clusters.
Koke'e Road, from the Kekaha Menehune Food Mart to the intersection with Waimea Canyon Drive, will be closed to all vehicles from 7:30 a.m. to about 9:30 a.m. The race is expected to end at 11 a.m.
In addition to the mountain race, organizers are planning a more casual ride Sunday, May 29, along Kaua'i's Eastside and North Shore. This weekend on wheels is organized by Bicycle Racing Kaua'i with the support of the Honolulu-based Tradewind Cycling Team.
The Kokee course record is held by Mark Galedo, currently a professional cyclist in the Philippines, who in 2014 finished the climb in 58 minutes.
"That's only 15 minutes longer than a typical car journey up the mountain," Williamson said. "Of course, not everyone is a pro. Our real goal is to encourage more folks to get out, train, get fit and have fun."
To that end, groups regularly train on weekend mornings.
New riders also can train indoors while watching a course video on the Bicycle Racing Kaua'i channel on YouTube.com, or at the Island Ride Kaua'i studio in Lihu'e.
Packet pick-up for Pedal to the Meadow is Friday, May 27 at Briggs Bicycles in Harbor Mall in Nawiliwili.
◗ Info: PedaltotheMeadow.com, p2mKauai@gmail.com.
•••
Dennis Fujimoto, staff writer and photographer, can be reached at 245-0453 or dfujimoto@thegardenisland. com. Photo credit: Dennis Fujimoto