Coconut Coast Events and Entertainment
Every week on the Royal Coconut Coast there are concerts, craft fairs, special performances, farmer's markets, interesting lectures, cultural demonstrations and delightful local events. The monthly First Saturday Art Walk is highly popular. Several major events also come to the area throughout the year, providing full weekends of festival-fun. And, there are a number of community events that always welcome visitors. Check out our ongoing list of featured events, and don't miss going to KauaiFestivals.com for a complete list of island-wide happenings.
October 20, 7:30 a.m. until noon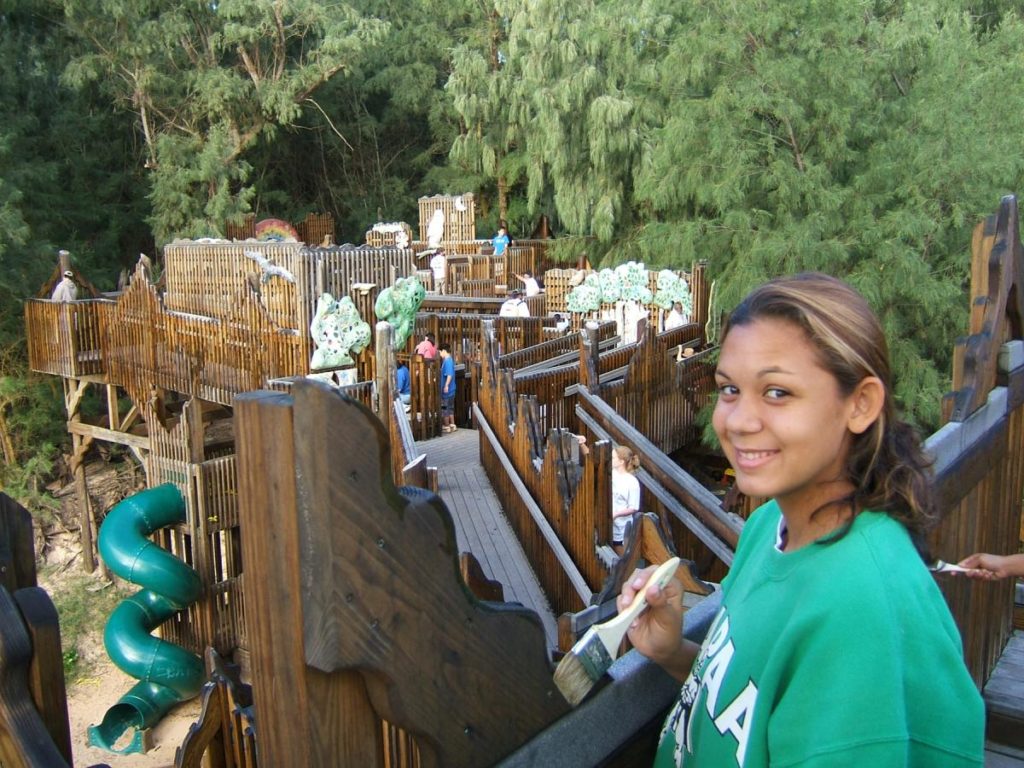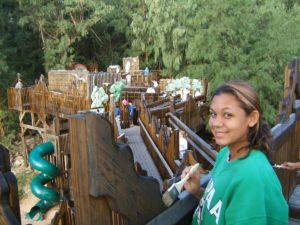 Every October, Friends of Kamalani and Lydgate Park come together as a community to observe Make A Difference Day.
Saturday, October 20th, share your aloha for Kauai's kids, community and our visitors by caring for Kamalani Playground & Lydgate Park!
Meet in the main pavilion of Lydgate State Park at 7:30am, and enjoy coffee and pastries at registration before we start.
Volunteers' energy and aloha spirit make the tasks a breeze,  maintaining the Kamalani Playground, clearing debris from Lydgate Park's beaches, and performing maintenance of the play bridge at the South end of the park!
If you'd like to participate as a volunteer, or bring a group of volunteers, please complete the contact form on our website at https://kamalanius.wordpress.com/contact/, or visit our Facebook page: https://www.facebook.com/FriendsOfKamalani/
(Facebook event @ http://bit.ly/MADDKauai2018)
Or, contact Tommy Noyes by call or text at 808-639-1018 with any questions.
Start Time is 7:30 AM, Saturday, October 20th, in the Lydgate Park Main Pavilion. We will be pau (finished) by 12 Noon and serving lunch with food provided by local area businesses. Please wear shoes, dress for outdoor work projects, and bring your own sun protection, water bottle, and gloves.
November 3rd, 9 a.m. to 10 p.m.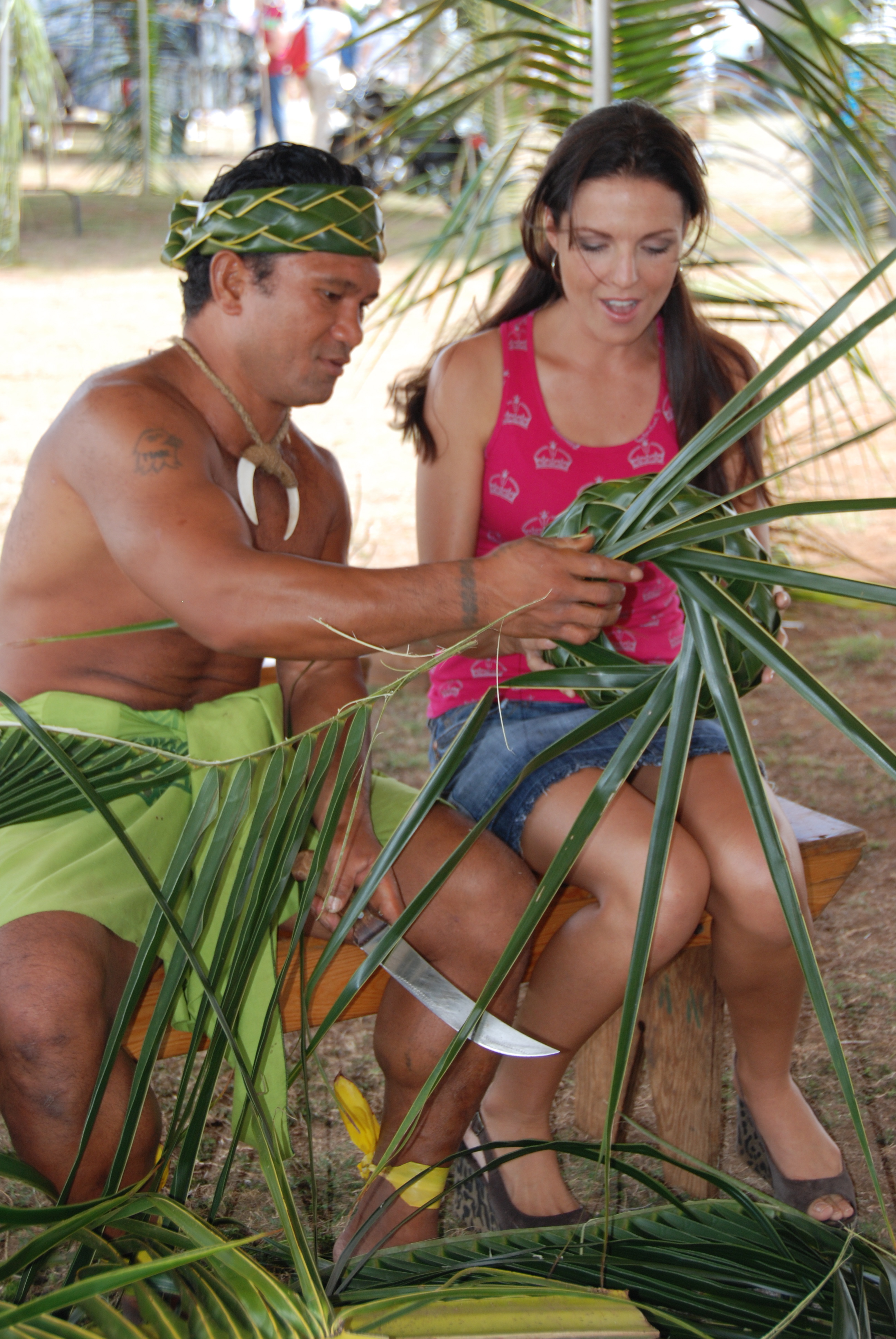 The annual Kauai Coconut Festival is combining with the annual Kauai Veteran's Day Parade and Kapaa's monthly First Saturday Night Art Walk on November 3rd to bring a full day of festivities through the length of Kapaa town. Named the CocoFest Lite Triple Event (formerly the Kauai Coconut Festival), the day starts with Kauai's annual Veteran's Day Parade sat 9 a.m. at All Saint's Church in Kapaa. The colorful parade proceeds through town to Kapaa Beach Park, where this year's "CocoFest Lite" will launch. The festivities provide a full afternoon of demonstrations, foods, entertainment and crafts surrounding all-things-coconut. The day will wrap up in Kapaa Town with the monthly First Saturday Art Walk, with music, demonstrations, open shops and gallery tours. For more information: https://kbakauai.org/coconut-festival/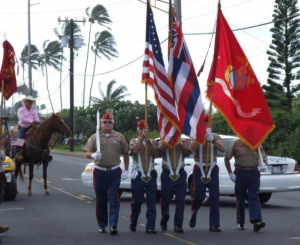 November 10th and 11th, 8 to 10 p.m.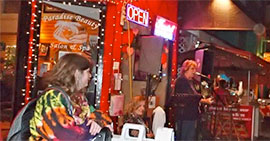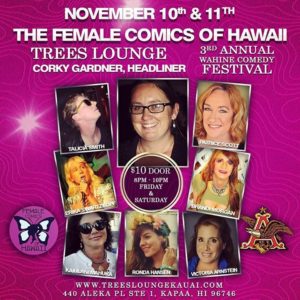 Female Comics of Hawaii are back to the Trees Lounge in Kapaa for two nites of fabulously funny standup comedy in the 2018 4th Annual Wahine Comedy Festival! This year, Brandi Morgan from Oahu headlines both shows. Comics coming from other islands are: Maui — Corky Gardner and Ronda Hanson, Big Island — Justine Smith, and Oahu — host Patrice Scott, Mary Jane Murphy, Cameo Lawrence and Erika Swartzkopf. Come laugh with the funniest ladies in Hawaii on Kauai! Cost, $12.