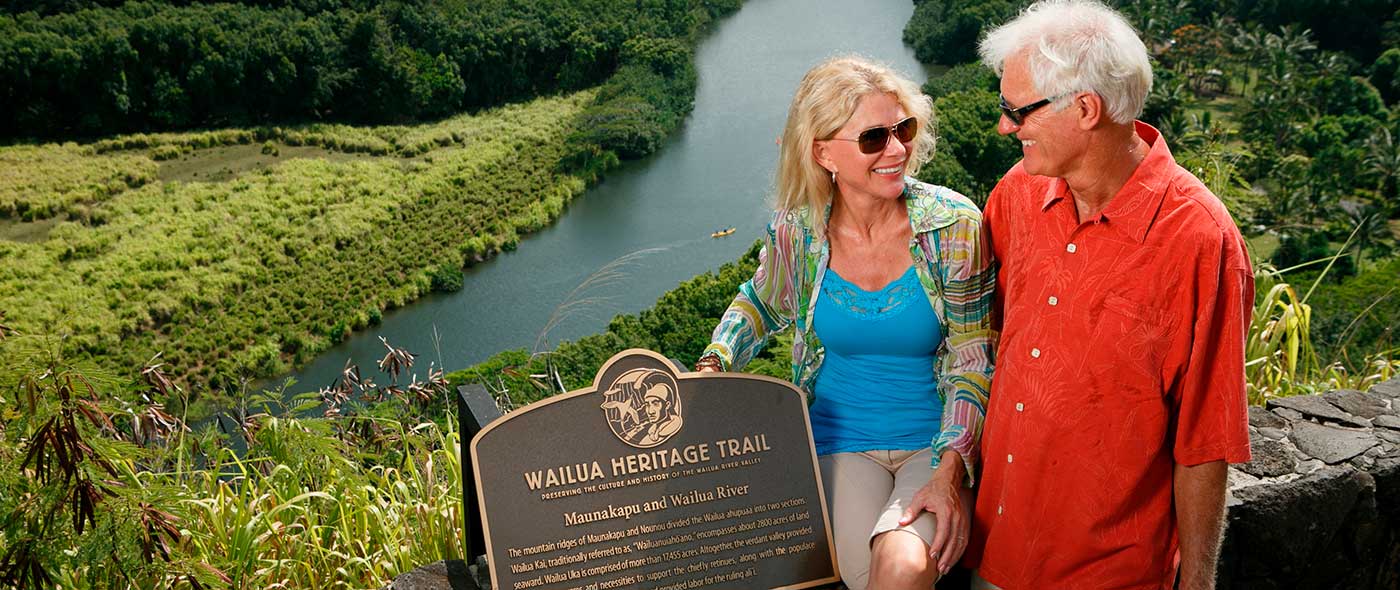 Wailua Heritage Trail ©Gelston Dwight
Explore the History of the Royal Coconut Coast
The Royal Coconut Coast boasts numerous historical and cultural areas, many of them marked with interpretive signage and walking trail access. At Lydgate Park, there is a 2.9 mile round-trip walking path between the Wailua River mouth and Kamalani Kai to the west. It is marked by informative historic signage explaining sites, customs, traditions, ceremonies and practices of the Native Hawaiian population, where much of this land was considered sacred.
Along the Ke Ala Hele Makalae multi-use walking and bike path, more interpretive signage provides insights into the history and coastal features along this magnificent 4.1- mile stretch of shoreline.
Seven heiau, (temples or shrines), were built on sacred ground, forming an arc, from the shores of the Wailua River, heading up to Mt. Wai'ale'ale, and ending on Kauai's west side. Several heiau and preservation sites dot the Wailua River and are marked by the Wailua Heritage Trail. Some of the stone structures still exist, have interpretive signage and are open to the public. These heiau are still sacred sites so please treat the area with respect when visiting, do not leave anything behind and do not move any rocks.
On the southern shore of the Wailua River once stood Hikina a ka la meaning Rising of the sun, because the stone structure used to light up when the bright rays of the morning sun rose out of the Eastern sea. The largest heiau that remains today is also along the Wailua River, it was called Malae, and was used for ceremonies. The oldest heiau on Kauai is nearby in the mountains of Wailua, said to have been built by the menehune, a race of little people in Hawaiian legends.
Browse Some of RCCA's Members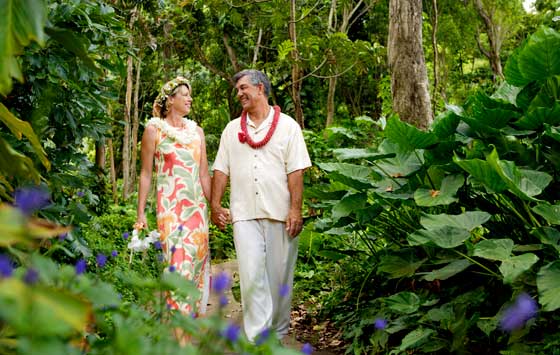 Choosing the Island of Kauai for your destination wedding is the perfect way to start the planning of your special day. Kauai is truly an island of love, and Wailua's Fern Grotto and our own Tropical Paradise offer two of the most unique wedding sites in the world.
3-5971 Kuhio Hwy. (Wailua Marina), Wailua, HI 96746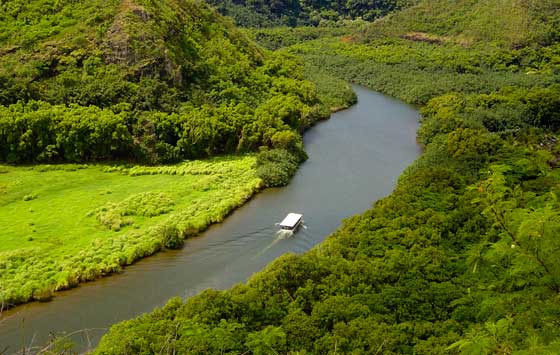 During the two mile river journey, you'll hear songs and stories of ancient Hawaii — like the King's Highway, sacred Mount Kapu, and the First Hau Tree. In addition, guests enjoy learning the hula during a lesson provided by a young hula dancer. Everyone gets into the act during the river cruise!
3-5971 Kuhio Hwy. (Wailua Marina), Wailua, HI 96746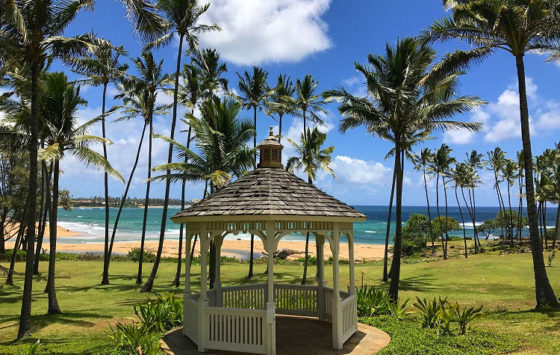 At Hilton Garden Inn Kauai Wailua Bay, we want to make your Kauai wedding as stunning, special, and stress-free as possible. That's why you'll be working with our professional catering team. They will guide you through our gourmet catering menus, beautiful décor options, and seating plans. For intimate wedding ceremonies, we feature a gorgeous, beachfront gazebo that is a beautiful venue for exchanging vows for up to 50 guests. Indoors, we're able to accommodate up to 350 guests in our Kuhio Ballroom, which features 7,000 square feet of event space, making it a fully customizable Kauai wedding reception venue. Our hotel can also provide guest rooms for wedding guests, special packages, and surprise perks for the bride and groom.
3-5920 Kuhio Highway, Kapaa, Hawaii, 96746