Kauai Festival of Lights
Friday, Saturday & Sunday, 6 to 8 p.m.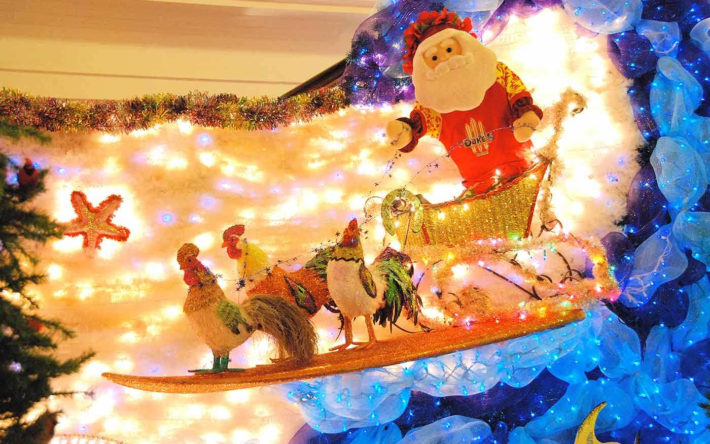 Santa's Gone Kauaiian at the Festival of Lights! It's a Kauai-style holiday
wonderland inside the Historic County Building, open to the public at no charge. This December marks the 23rd anniversary of this glorious celebration founded by artist Elizabeth Freeman in 1997. It showcases the beloved "Trash to Treasure" Folk Art decorations of Auntie Josie Chansky and the gorgeous new "upcycled" creations designed by Elizabeth and crafted by our talented teen volunteers!
Step inside and let the magic begin. In the twinkling interior guests will find
delightful Kauai-style touches – from rainbows and roosters to hula bears and dolphins. Check out the  surfin' Santa and the whimsical SPAM Can Tree. This is an outstanding spot for for photos with Santa. Plus the dazzling park lights glow every night through New Year's day. ! This display is considered a amazing reflection of Kauai's aloha spirit.
Open 6-8PM every Friday, Saturday and Sunday from December 6 – 28 including
Christmas Eve!