Washed Up Marine Debris Art Show — May 14th through June 10th
May 14 to June 10th noon to 4 p.m.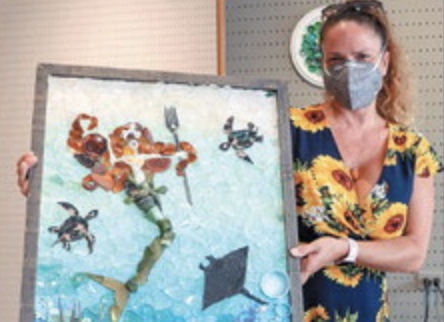 The Kauai Society of Artists (KSA) Fourth Annual Washed Up Marine Debris art show (Co-sponsored with Surfriders Kauai),  opens May 14th and extends through June 10th. Located at the Kukui Grove Center KSA gallery in Lihue, the show features pieces that highlight artists who have created unique and captivating art using man-made marine debris as a way to educate consumers and spark change.

The exhibit will be available for viewing daily through June 10th, including June 8th, designated as World Oceans Day, a day set aside by the United Nations for humanity to celebrate the ocean.
Viewing hours are from noon until 4 p.m., Sundays through Saturday. Friday hours are from noon until 7 p.m.
KSA is an active arts organization for all visual artists living and creating on the beautiful and inspiring Garden Island of Kaua`i.
Pictured here, artist Amy Vanderhoop shows her entry,"Namaka" with glow in the dark pigments. Photo credit: Dennis Fujimoto, staff reporter and photographer, The Garden Island, dfujimoto@thegardenisland.com (808) 245-0453