Kauai Shores Earns Accolades
Published on: August 12, 2019 – 6:24 am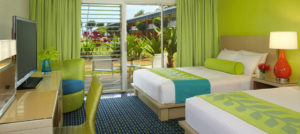 WAIPOULI — Kauai Shores Hotel, located on Kauai's Royal Coconut Coast, has been awarded two quality awards from travel industry leaders.
TripAdvisor honored Kauai Shores with a 2019 Certificate of Excellence, a designation awarded to hospitality businesses that consistently deliver great service and maintain an overall TripAdvisor rating of at least four out of five stars during a 12-month period.
Businesses must have a minimum number of reviews and be listed on TripAdvisor for at least 12 months to be considered. Approximately 10 percent of total businesses on TripAdvisor receive the Certificate of Excellence designation.
Kauai Shores also earned the 2019 Quality Assurance Award from Delta Vacations, the official vacation provider of Delta Air Lines. The award is given to Delta's hotel, destination-management and car-rental partners that achieve a 99 percent customer satisfaction index, have zero involuntary relocations and a minimum of 100 bookings in 2018.
"Following our property-wide renovation in 2017, we're pleased to hear that our guests are enjoying their experience with us," said Tom Bell, president of Hawaiian Hotels and Resorts, the hotel management group for Kauai Shores. "Our staff take pride in offering the highest level of Hawaiian hospitality and service, and we couldn't be more excited to be recognized for it in our positive guest reviews and ratings."
Kauai Shores Hotel, 420 Papaloa Road, Hawaii is nestled on Kauai's famed Royal Coconut Coast. The 200room beachfront hotel completed a $10-million, property-wide renovation of its guest rooms and public spaces, blending contemporary and modern décor with island-style aesthetics.
Article re-printed from The Garden Island, 8.11.19