Best Ahi (Tuna) Recipe from Hukilau Lanai
Published on: January 27, 2020 – 12:16 pm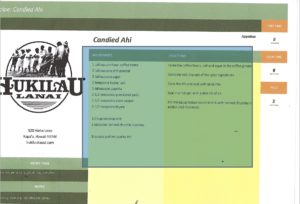 Try this popular and ono-licious (delicious) dish called Candied Ahi for seared ahi (tuna) prepared at the Hukilau Lanai. It's made by combining high quality ahi (tuna) with ground coffee, chili, sugar, salt, paprika, garlic, pepper, lime, coconut milk, and chiplote. Yum!
1 TBS kauai coffee beans
2 TBS chili power
2 TBS sugar
1 TBS kosher salt
1 TBS paprika
!.5 TBS granulated garlic
I.5 TBS black pepper
1.5 TBS thyme
½ cup coconut milk
1 TSP canned chipotle in adobo
8 oz. sashimi quality ahi (tuna)
Puree the coffee beans, salt and sugar in a coffee grinder. Combine with the rest of the spice ingredients. Cube the ahi and coat with the spice ingredients. Sear in a hot pan with a little bit of oil. For the sauce, reduce the coconut milk with canned chipoltes in adobo until thickened.