Top Water-Sports on the Royal Coconut Coast
Published on: July 6, 2019 – 9:33 am
1. Kayak the Wailua River — considered Hawaii's longest navigable river, Wailua presents extraordinary back-drops of steep mountains, lush vegetation, and a glimpse of river-life along its shores and waterways. Paddle from the nearby Wailua River Park or the Wailua Marina traveling inland almost 3 miles until the depth becomes shallow. Take an excursion with local Kauai kayak companies, Kayak Kauai or Kayak Adventures, or rent your own kayak. This serene river provides a sense of peace, adventure and wonder along the way, including views of significant cultural and historical sites. Excursions include a hike up to an amazing waterfall.
2. SUP (stand up paddle boarding) — rent a paddle board from Kayak Kauai on the Wailua River, with relatively calm waters and exceptional scenery. Recommended for good swimmers. Take all water-safety precautions.
3. Wind or kite surfing. If you're an avid kite or wind surfer head to the beach just south of Lydgate Park. You'll find a number of local kite surfers there on a trade-wind day. Turn right off of Kuhio Hwy onto Leho Rd, bear right. Drive just past the entrance to Kaha Lani Resort and turn right, just after the golf course into the park and campground that is the same location as Kamalani Kai. Continue on the dirt road at the end of the park to the beach area where windsurfers and kite surfers park their cars. Wind or kite surfers are also found at Wailua Beach Park and Kealia Beach Park. If you are new to Kauai ocean conditions, arm yourself with knowledge about wind, tide, and current information before you go. Be sure to talk to locals who are akamai (knowledgeable) about ocean conditions.
4. Swim laps at the ocean-front Kapaa Public swimming pool and relax afterwards on the lawn areas surrounding this facility.
5.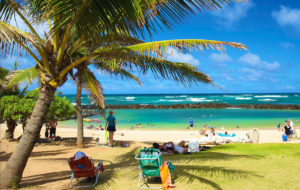 Snorkel Lydgate Park protected ocean swimming area. Staying close to the inside rock wall formation will turn up views of reef fish, urchins, and some coral. Check with the lifeguard about snorkeling conditions before going out. Wear a flotation devices, and stay within the rock wall protected area.
6.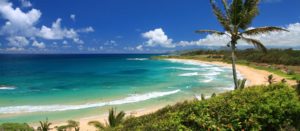 Surfing or Boogie Boarding at Kealia Beach Park is a favorite for local experienced surfers, with wave breaks off and on the beach. Lifeguards are on duty seven days a week. A restroom and some picnic tables are nearby.  Always check on ocean conditions with the lifeguard before going out. Be smart and aware. Not advised for surfing or boogie boarding novices, or the in-experienced.