Press Room
Published on: April 16, 2019 – 5:42 am
Three spectacular events are lined up on the Royal Coconut Coast in June, August and September. First up is the extravagant Taste of Hawaii at Smith's Tropical Paradise on June 2nd, followed by the colorful Heiva I Kauai Polynesian Festival in Kapaa August 3-4 and moving on to the highly cultural Mokihana Festival, September 22-28 (with two events located in Kapaa). Taste of Hawaii provides what has become known around the islands as the "ultimate Sunday brunch", offering delectable choices prepared by numerous chefs, an array of beverages, topped off by music and entertainment. Proceeds benefit youth and education. Heiva I Kauai is a Polynesian dance competition featuring dance halaus (dance troops or schools) from Hawaii and the Pacific. The Mokihana Festival features cultural entertainment and practices throughout the week, such as a Hawaiian Church Service, presentations by cultural specialists and several dance and singing competitions. For more information, check individual websites, linked to each event.
Published on: March 8, 2019 – 8:57 am
"We're extremely proud to receive this incredible recognition for The ISO," said Castle Resorts & Hotels President and CEO Alan Mattson. "This property is special, from its prime oceanfront location to its rustic chic personality to its array of offerings for today's outdoor and recreational travelers. It embodies the true essence of an award-winning boutique hotel."
An acronym for Island. Sky. Ocean., The ISO is the only property on Kauai's east shore that literally sits on the ocean's edge without any form of separation. As a result, all of the rooms offer ocean views. It reopened to the public in April 2018 following a $5 million renovation of the lobby, guest rooms, exterior and grounds.
The ISO is the only lifestyle boutique hotel on the coast to offer a free healthy continental breakfast, a reusable keepsake water bottle, and yoga mats and canteen coffee mugs in all rooms for guests' use. The ISO also offers yoga and other fitness options on the oceanfront lawn as well as beach cruiser bikes to explore the area and the four-mile coastal trail adjacent to the property.
The guest rooms feature a rustic, contemporary décor and include a refrigerator, coffee maker, flat screen TV, WiFi, Bluetooth, and USB capable clock radio. Among the property's amenities are an oceanfront swimming pool, large grass courtyard with lounge chairs and tiki torches, fire pit, and filtered water station. The ISO is also home to the island's number one-rated Bull Shed Restaurant, which specializes in gourmet steaks, prime rib and fresh island seafood.
The 2nd Annual aio Media Hawaii Lodging & Tourism Awards honors key industry professionals, events, attractions and businesses that contribute to Hawaii's booming tourism industry. It is presented in partnership by aio Media Group and the Hawaii Lodging & Tourism Association.
Rates at The ISO begin at $179 for an ocean view guest room and include a complimentary continental breakfast from 7:00 to 10:00 a.m. daily. A $19 daily resort fee includes water bottle, bicycle use, yoga and other fitness options on the lawn, parking and WiFi. For more information, call (808) 545-3510 or visit TheISO.com.
About Castle Resorts & Hotels
Castle Resorts & Hotels was founded in 1993 and is a wholly owned subsidiary of The Castle Group, Inc. Headquartered in Honolulu, Castle manages a broad portfolio of guest accommodations including value/economy hotels, full-service hotels and spacious all-suite condominium resorts and luxury villas in the Hawaiian Islands on Oahu, Maui, Molokai, Kauai and Hawaii, and in New Zealand on the North Shore of Auckland. To learn more or to make a reservation, visit www.castleresorts.com or call (808) 367-5004. Keep up with current events at www.instagram.com/castleresorts and www.facebook.com/CastleResortsAndHotels.
SOURCE Castle Resorts & Hotels
Related Links
Published on: January 11, 2018 – 7:21 pm
Kapaa Named Number One Trending Destination in U.S. for 2018 by TripAdvisor
KAPA'A, KAUA'I – (January 11, 2018) – TripAdvisor recently announced its 2018 top ten picks for trending traveler destinations in the United States. Kapaa, Kauai takes top spot as a destination on the rise and is the only destination in Hawaii with this distinction. TripAdvisor arrives at its picks by researching increases in positive traveler review ratings for several categories including accommodations, restaurants and attractions, according to businessinsider.com. Also examined are increased search activity and increased booking interest for U.S. cities. In descending order, other cities in the top ten are Waco, Texas; Wilmington, N.C.; Bend, Ore.; Boulder, Colo.; Paso Robles, Calif.; Richmond, Va.; Greenville, S.C.; Omaha, Neb., and Lexington, Ky.
"There's a lot going on here for the Royal Coconut Coast," says Hilmy Dole, president of the Royal Coconut Coast Association. "We're seeing strong interest in Kapaa's culture, attractions, lodging, food and activities by both our visitors and our kamaaina (locals). "We're all striving for excellence as we continue to upgrade and provide new experiences. "
Check out these links: https://www.tripadvisor.com/TravelersChoice-DestinationsontheRise-cTop10-g191 and http://www.businessinsider.com/trip-advisor-top-us-places-to-visit-in-2018-according-to-travelers-2018-1
Published on: October 31, 2017 – 6:50 pm
Resorts on Kauai's Royal Coconut Coast are underway with $37 million worth of projects targeting completion in 2018 and 2019. Kauai Shores Hotel is wrapping up an extensive renovation with improvements to the front pool, deck and the large hot tub, all facing the beach. Upgrades on air conditioning units will be complete by early 2018.  Mokihana Resort, an oceanfront resort, is halfway through a revitalization project for all of its rooms, public spaces, and the lobby area. Expected completion is February 2018. Also underway are renovations at the oceanfront Pono Kai Resort, with a 6-year project expected to be complete by June 2018 when Phase II is finished. Tackling the project, one building at a time, this resort has been installing new tile floors, more soundproofing, renovating all bathrooms and replacing all furnishing and appliances.
On tap for 2018 are two significant renovation projects. Hotel Coral Reef Resort, a boutique oceanfront property, will launch its plans to add a third story on the oceanfront building, establishing four new guest rooms and two new suites, with kitchenettes. Coming up in 2018 at Kauai's Courtyard Marriott are significant renovations scheduled to start August 2019 and wrap up February 2019. These will include a complete remodel of guest rooms, public spaces, the courtyard area, meeting spaces and the lobby. Kauai's Courtyard Marriott will be re-flagged as a Sheraton property in 2019.
Published on: March 31, 2017 – 6:39 pm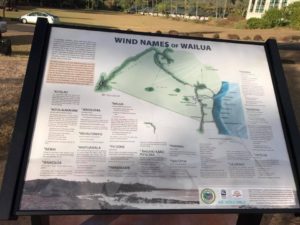 In a collaborative effort between Kauai County and Kauai Nui Kuapapa, five detailed interpretive signs were recently unveiled at Kauai's popular Lydgate Park to add to the existing signs surrounding the Hikinaakala heiau (rising sun temple).
These signs provide an educational walking tour interpreting the rich Hawaiian history and culture connected with Kauai's Royal Coconut Coast. All signs are in both English and Hawaiian. Kauai Nui Kuapapa, is a project supporting  interpretation of Kauai's cultural history, place-names and practices.
Nalani Brun, Tourism Specialist for Kauai County has worked with leaders of Kauai Nui Kuapapa to bring this project to fruition. She comments, "We encourage everyone to use this knowledge as a jumping off point to create their own action, whether it be to spend time with their Kupuna (elders, knowledgeable ones) and "talk-story," dig deeper in study, volunteer at heiau maintenance projects or any number of things."
The first sign talks about the region, Puna Moku, (the Hawaiian land district of Puna) providing a sense of "where you are." The second sign focuses on the Wailua Ahupuaa. The third sign provides historical place names of Wailua and looks at the small adjacent Ahupuaa of Olohena. The fourth sign provides a variety of wind names associated with Wailua, considered a useful tool for farmers and builders. The fifth sign concentrates on several significant heiau (temple, worshiping place) known as Kukui, Hikinaakala, Holoholoku, Malae, Poliahu; and the kapu (cultural taboos) associated with each.
The County is taking comment from local residents and visitors to apply recommended changes and will incorporate those into the signs over the next few months.
For more information, go to http://kauainuipapa.com