New Section of Bike Path Under Construction
Published on: February 24, 2021 – 10:42 am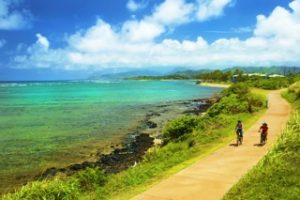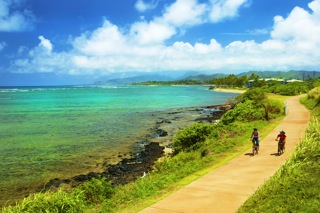 From The Garden Island Newspaper, by Dennis Fujimoto
WAIPOULI — The county Department of Public Works and Cushnie Construction Co. announced the start of construction on the next phase of the Eastside coastal multi use path.
"We could possibly start work as early as next week," said Jeff Griffin of Cushnie Construction of the project that will connect the Uhelekawakawa Canal bridge at Kuhio Highway near Waipouli Beach to the existing path fronting the Sheraton Kaua'i Coconut Beach.
Work currently being done on the bridge is not related to the path construction.
Construction will take place on weekdays from 9 a.m. to 5:30 p.m., and is expected to take approximately nine months to complete. Dates and times are subject to change depending on weather and other factors.
The construction phase is budgeted at $1.1 million and funded through Federal Highway Administration funds.
"This path's alignment was carefully vetted during the Special Management Area permitting process, and adjustments were made to minimize potential coastal erosions," said Acting County Engineer Troy Tanigawa.
The next phase of the path is in line with the overall bike and pedestrian path project that addresses several needs and objectives, including:
• Improved safety for pedestrians, bicyclists and others using non-motorized modes of transportation;
• Increased choices among alternative modes of transportation;
• Greater connections among destination nodes;
• Enhanced access to natural areas, while minimizing impacts on sensitive ecosystems;
• Increased opportunities for recreation and physical fitness;
• Increased potential for economic activities associated with the use of the path;
• Implementation of bikeway proposals in the Kaua'i General Plan and Bike Plan Hawai'i.
For questions or concerns on the construction, contact Griffin at 645-0954.
•••
Dennis Fujimoto, staff writer and photographer, can be reached at 245-0453 or dfujimoto@thegardenisland.com.