Best Whale Viewing Spots on the East Side
Published on: February 2, 2021 – 10:08 am
November until April are when Humpback whales, migrating down from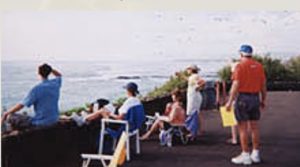 Alaska, show up in Hawaii's waters to breed and calve before heading back north for the summer. It's always exciting to see the activity of these amazing creatures from shore, rolling along in the ocean, spouting and breaching. One of the he best places to whale-watch on the Royal Coconut Coast are at the Kapaa  Scenic Lookout, just past the end of Kapaa town on the right. There is parking and places to settle in your beach chairs. Bring water, hat, sunscreen and binoculars.
Another great spot along is further east, right on the Ke Ala Hele Makalae recreational path. It's a small, improved and historic landing, marking the place where pineapple from the fields surrounding Kapaa and Wailua was loaded onto boats for shipment up until the mid 1900s. The landing is located directly in front of a pavilion and accessible by bike or foot.
If you're interested in getting up close to whale activity, book a cruise with Blue Dolphin Charters out of Port Allen.