First All Inclusive Playground in Hawaii Opened at Lydgate Park
Published on: April 25, 2022 – 9:00 am
Hawaii's first all-inclusive playground opened on Earth Day, April 22nd, at Lydgate Beach Park.
From The Garden Island newspaper, article and photo by Dennis Fujimoto, dfujimoto@thegardenisland.com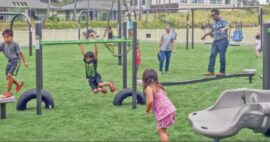 WAILUA, KAUAI — Mayor Derek S.K. Kawakami took time Friday to lead the blessing of the state's first fully inclusive playground at Lydgate Beach Park, next to the Kamalani Playground and in close proximity to the park's main pavilion.
"During my first weeks in office, I met with a group of mothers of children living with autism," Kauai Mayor Derek Kawakami said. "From them, I learned that we had no playground tailored to children living with disabilities. On that day, we made a promise, and I am proud of our Department of Parks and Recreation team for their work to make this inclusive playground a reality for keiki living with disabilities."
The inclusive playground addresses physical, social, emotional, sensory, communication, and cognitive activities encountered by children living with developmental disabilities. The facility was budgeted for $400,000, allocated from Kauai County's General Fund, Capital Improvements Projects Fund, and the Lihu'e District Special Trust Fund for Parks & Playgrounds Fund. The facility also includes swinging, spinning, sliding, climbing, and balancing equipment.
The equipment that has earned an Inspired Play National Demonstration Site offers inclusion for keiki to play together and create pleasant childhood memories.
Construction for the playground started in the fall of 2021.