Top Readers' Choice Awards For Kauai's East Side by Hawaii Business Magazine
Published on: May 12, 2022 – 11:32 am
Hawaii Business Magazine, in April, announced their top readers' choice awards for several categories. On the Royal Coconut Coast, some great picks made the list.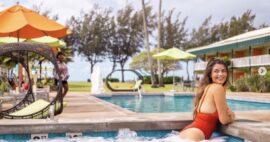 #1 for Best Value Hotel: Kauai Shores Hotel, an oceanfront 200-room resort with pool, spa, beach-yoga and the Lava Lava Beach Club restaurant. Also in the top 10 are Hilton Garden Inn Wailua Bay, fronting Lydgate Beach and Park and next to the Wailua River; a 216-room full service resort with two restaurants, pools, the Ahi Ulii Fire Show and numerous activities;
and Sheraton Kauai Coconut Beach Resort, also an ocean-front full-service resort with 328 rooms and suites, four restaurants, the Luau Ka Hikina, two affinity pools with hot tub, dining entertainment and many oceanfront locations to relax and lounge around.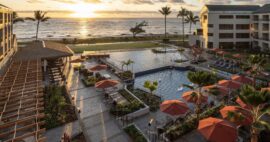 #3 for Best Boutique Hotel: Kauai Shores Hotel, due to it's more intimate size and configuration  along with many amenities.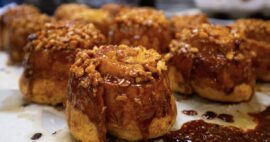 #4 for Best Bakery: Haole Girl Island Sweets, specializing in handmade European style artisan baked goods, pastries and specialized cakes. Made fresh daily on Kauai from scratch. Locations are at Brew Thru Kauai, Imua Coffee Roasters, Coconut Marketplace Farmers Market and in its Kapaa Bake Shop at 934B Kipuni Way (for special orders only).
#5 for B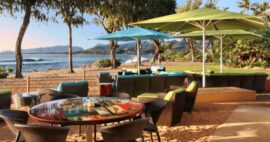 est Hotel or Resort Restaurant and #2 for Best Breakfast Restaurant : Lava Lava Beach Club, with its on-the-beach relaxed open-air dining; breakfast, lunch, happy hour and dinner menus, plus nightly entertainment. Located at the Kauai Shores Hotel.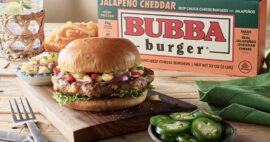 #2 for Cheap Eats: Bubba Burgers, Kauai-famous burgers, often considered, the "best." Grass fed beef burgers, meatless burgers, hot dogs and other offerings. Located right across from Kapaa Beach Park.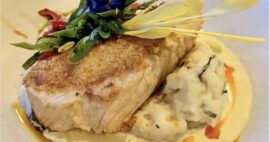 #3 for Best Farm to Table Restaurant: Hukilau Lanai, located at Kauai Coast Resort at the Beachboy. This "favorite" for many has been one of Kauai's pioneers in offering an outstanding menu featuring farm to table products. Kauai's farms, ranchers and fishermen contribute superb fresh fruits, vegetables and herbs, dairy products, meats and fish, chocolate and honey all contributing to exotic tastes and sumptuous cuisine.