Top Beaches On the Royal Coconut Coast
Published on: July 18, 2022 – 12:59 pm
Home to no less than six beach parks, there are several especially enjoyable spots, depending upon what you like to do at the beach on Kauai's East Shore. Most of these beach parks are considered some of the most easily accessible. Cruising through the Royal Coconut Coast, you will find these great places to relax, play, surf, swim, snorkel, sunbathe, beachcombe or lounge under a palm tree. Most have restrooms. For early-risers, sunrises from any of these beaches are considered the best on Kauai.
Wailua Beach: Popular with surfers and kite boarders, this beach is right next to the Wailua River mouth. A relatively long stretch of beach, it is situated right on Kuhio Highway. For inexperienced ocean-swimmers, this is a better place to walk the beach, as ocean conditions are less protected here. Parking is limited.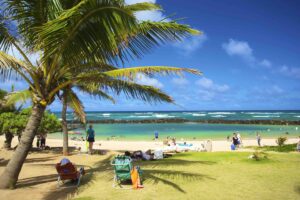 Lydgate Beach Park: This is a perfect place for children and those who like to splash around in a protected swimming area, snorkel or wade. This park also contains the extraordinary Kamalani Playground and the recently- opened all-inlusive playground (first one in the State). A walking path fronting the park has many interpretive signs explaining ancient heiau, the area's royal history and ocean-life. This park has a lifeguard.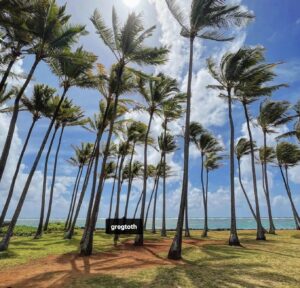 Kapaa Beach Park: Located in the center of Kapaa Town, many locals find spots along this stretch of coastline to simply enjoy hanging out under coconut trees and enjoy communing with oceanfront nature. This park is adjacent to the Kapaa public swimming pool, the Kapaa Beach park event and sports field, the Kapaa Library and the Kapaa Community Center. It is also central to Kauai's famous Ke Ala Hele Makalae multi-use path for biking, walking, or running.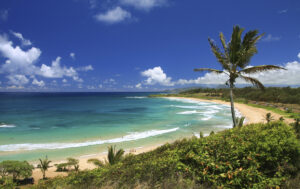 Kealia Beach Park: Very popular with surfers and boogie boarders, this half mile stretch of beach has numerous covered pavilions with picnic tables. For non-surfers, it's a great place to wander the beach, enjoy watching those in the water and hang out for morning or afternoon relaxation. When the ocean is calm, it's also a fun place to get into the water for splashing around. Please check at the lifeguard stand about ocean conditions before entering the water.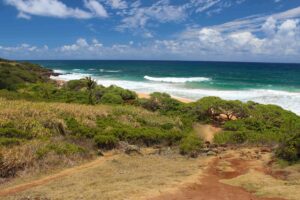 Paliku, (Donkey) Beach Park: More secluded than the East Shore's other beaches, Paliku is named after the donkeys that grazed there after a day of hauling pineapple to the cargo landing further west. It is very picturesque. For non-experienced ocean swimmers this beach is best for sunbathing, walking the beach or enjoying time under a shade tree. There is no lifeguard here and restrooms are up the parking lot next to the highway.
Important: Hawaii is located in the middle of the mighty Pacific Ocean, and is subject to highly respectable forces of nature. Every side of every island has highly variable ocean conditions. Be aware. Check ocean conditions before entering the water by reading current surf reports, and talking to life guards. Know that there are sneaker waves (a surprise big wave in an otherwise calm sea). Never turn your back on the ocean.