Top Wedding Venues on the Royal Coconut Coast
Published on: September 20, 2022 – 11:14 am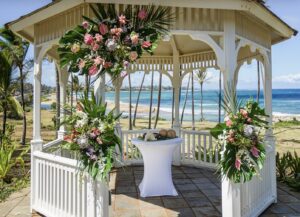 Hilton Garden Inn Kauai at Wailua Bay: We want to make your Kauai wedding as stunning, special, and stress-free as possible. Work with our professional catering team. They will guide you through our gourmet catering menus, beautiful décor options, and seating plans. For intimate wedding ceremonies, we feature a gorgeous, beachfront gazebo, a beautiful venue for exchanging vows for up to 50 guests. Indoors, we're able to accommodate up to 350 guests in our Kuhio Ballroom, which features 7,000 square feet of event space. Our hotel also provides guest rooms for wedding guests, special packages, and surprise perks for the bride and groom.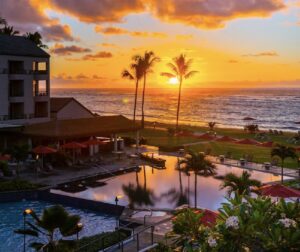 Sheraton Kauai Coconut Beach Resort: Hosting your destination wedding or reception here is a memorable way to take your amazing wedding and elevate it to the next level. Our professional event planners will work with you to  meet your expectations. From intimate places to over 5,200 square feet of indoor and outdoor wedding venues to work with, your Kauai wedding will be impressive. Your guests will appreciate the tropical island getaway and you will love discovering aspects of Hawaiian culture that enhance the fun and excitement of your wedding. This will already be one of the most memorable days of your life. Bringing the magic of a Hawaiian beach, ocean waves, and tropical sun  will just make it that much better.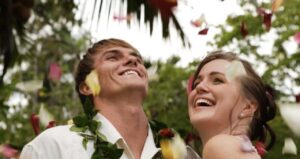 Smith's Tropical Paradise: Choosing the Island of Kauai for your destination wedding is the perfect way to start planning of your special day. Kauai is truly an island of love. Wailua's Fern Grotto and our own Tropical Paradise offer two of the most unique wedding sites in the world. Whether it is planned or on impulse, your personal ceremony will remind you of your commitment to one another. Create a distinctive Kauai memory with your newly formed marriage bond, or by rededicating yourselves one to the other with a vow renewal, at the Fern Grotto or in the tropical splendor of our gardens.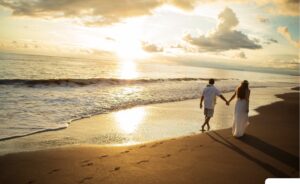 Holo Holo Charters: When you're hosting a destination wedding, it's great to plan at least one or two group events besides the wedding itself. People have traveled all this way on your behalf, and they want to see you and spend as much time with you as they can, not to mention the other guests. The two respective "sides" of a wedding party need as much time as possible to mix, mingle, and become friends—if not family!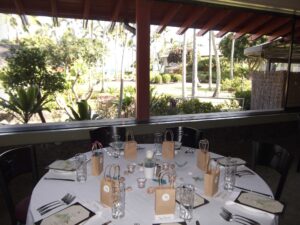 Hukilau Lanai: The perfect location for your upcoming wedding reception or dinner party. Our Private Banquet Room seats a minimum of 25 up to a maximum of 75 guests for private events. We can accommodate up to 60 guests for wedding receptions. Our smaller semi-private room seats a minimum of 15 guests up to 32 guests. We can accommodate up to 24 guests maximum for wedding. The semi-private room provides an intimate private dinner atmosphere. Located at the Kauai Coast Resort at the Beachboy.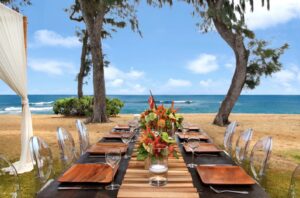 Lava Lava Beach Club Kauai: Say "I do" at Lava Lava Beach Club, your wedding destination.  Stimulated and satisfied, from the first dance to the last bite, we will make sure you and your guests will remember your wedding forever.Whether your looking for a small piece of paradise for the two of you on the beach or a larger event with family and friends celebrating on a long weekend, Lava Lava is the place for you. Located at the Kauai Shores Hotel.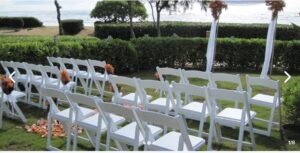 Oasis On The Beach: This beautiful oceanfront restaurant showcases what Kauai has to offer in cuisine, service and ocean views while providing open air seating throughout the restaurant.  Couples find the experience extraordinary and the staff friendly. We strongly believe that residents and guests of Hawaii want to experience Hawaii. We use local sources for almost 90% of our ingredients, and work closely with Kauai's farmers, ranchers and fishermen to provide you with the best and freshest possible ingredients. Located at Outrigger's Waipouli Beach Resort