Top Kids Things-To-Do on Kauai's East Side
Published on: June 1, 2021 – 9:00 am
Multiple generations enjoy staying on Kauai's Royal Coconut Coast where there are plenty of things-to-do. In particular, kids enjoy lots of terrific activities on this side of the island.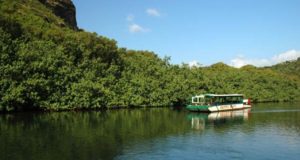 Take a Fern Grotto river cruise with Smith's Boat Tours, up the magnificent Wailua River. Dock at the access trail and walk up to the famed Fern Grotto, led by knowledgeable crew. Enjoy the wonders of this extraordinary sight and hear stories and lore. Enjoy singing and performance along the way up-river and at the Fern Grotto. Kids enjoy the boat ride, the singing and dancing, the sights and seeing the fern grotto.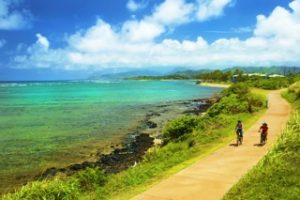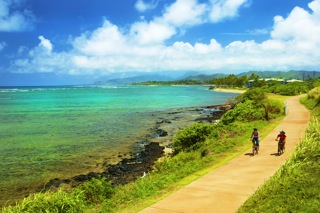 Rent bikes at Hele On Kauai and explore the Ke Ala Hele Makalae recreational trail: Just named among the top five recreational trails in the U.S., this is a mostly flat 8-mile coastal round trip route passing by beautiful beaches and coves. It is also a great place to run or walk. Beach cruisers and standard bikes are available along with child bike trailers for the very young.  Restrooms and covered pavilions are found along the way.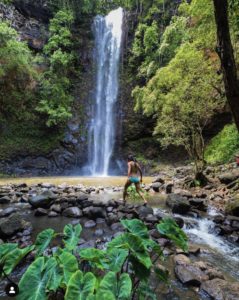 Kayak and hiking adventure up the Wailua River to Uluwehi Falls: A three hour excursion provided by Kayak Kauai. Paddle with a small group up the magnificent Wailua River (no white water), taking a turn at the north fork.  Just a little way further paddlers park their kayaks where a hiking trail follows the stream then turns up a tributary. The reward is arriving at the base of Uluwehi Falls, complete with a lovely pool for wading. Kids 5+ are allowed. Though through the age of 16, they must be accompanied by adults. Knowing how to swim is highly recommended.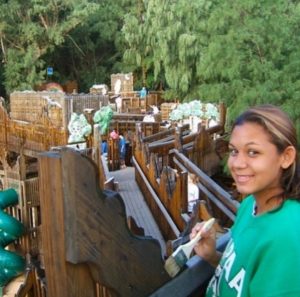 Considered an amazing marvel, Kamalani Playground entertains kids for hours. Conceived and built by the community and Kauai County Parks Department, this exceptionally large playground is made up of inter-connecting wood structures, filled with nooks and crannies and imaginative places to go. Surrounded by extensive lawn, shade trees and close to a restroom, Kamalani Playground is found at Lydgate Beach Park directly across from the swimming beach. Further west, off of Nehe Road is Kamalani Kai, another delightful area for kids with a wonderful wood structure as well that leads down to the beach. It's adjacent to the Lydgate public campground.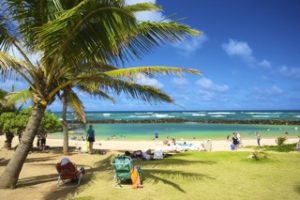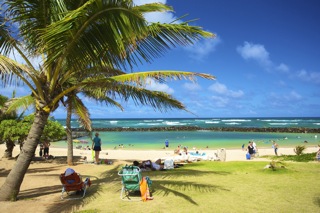 Play and swim at Lydgate Beach Park where there is a very protected and relatively shallow swimming area along with a lifeguard station. Toddlers enjoy sitting and splashing in the water, young kids can swim and play or try snorkeling where reef fish come through the lava rock barriers into this calm water.  This is considered one of the top family beaches on Kauai, a place where parents have an easy time keeping an eye on their kids.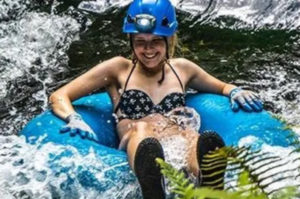 Try a tubing adventure: Join a group on a tubing trip down a water canal that cuts through a mountain tunnel. Operated by Kauai Back Country Adventures, this excursion is safe, fun and a wondrous exploration of Kauai's interior mountains. Kids 5+ and at least 43 inches tall are welcome with the adults in their group. Swimming capability is highly recommended.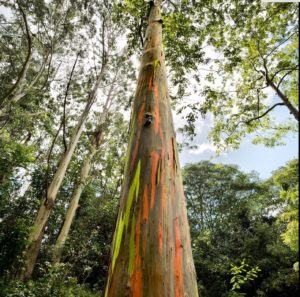 Explore hiking trails at the Keahua Arboretum,  providing a fascinating exploration of beautiful rainbow eucalyptus groves, an easy walking path around the park, a stream and picnic tables — perfect for an excursion with your family, including young children. This is also where the Kuilau trail starts.   Or, try  Nounou Trail, also known as Sleeping Giant. The view from the top that sweeps from Kauai's north side clear to Lihue is simply amazing. This trail ascends to the Nounou Mountain top, about 800 vertical feet.  Carry water, wear sunscreen, sports shoes and a hat.  Take snacks.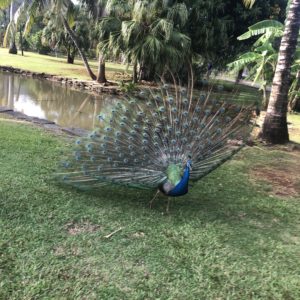 Enjoy a self-guided walk among acres of lush tropical foliage, ponds and grounds at Smith's 30-acre Gardens and Park, an oasis in the heart of Wailua. Wander over a mile of meandering pathways exploring the quiet, serene atmosphere of this paradise where peacocks and many other birds thrive. View over twenty types of fruit including breadfruit, star fruit, jackfruit, macadamia nuts and soursop. Or wander bamboo and fruit forests. Set amidst this natural backdrop are replicas of Polynesian and Filipino huts. Kids especially enjoy encountering the peacocks and seeing the water features.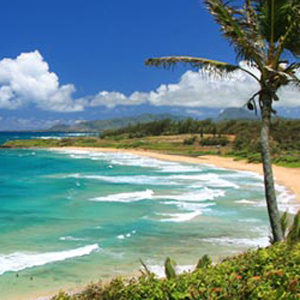 Kealia Beach is a great spot for beach strolling with your kids and, during the winter months, whale watching. While Kealia Beach is also a popular beach for surfing and boogie boarding,  it is subject to open ocean swell, wind swell and strong currents. On a calm day, the north end provides a chance for swimming and boogie boarding, in the "inside" surf (waves near the beach).  It is highly important to check with the lifeguard on duty about conditions first. Kealia Beach is also right on the Ke Ala Hele Makalae bike path.