Top Water Adventures on Kauai's East Side
Published on: July 5, 2023 – 7:47 am
Wow! — River and ocean SUP, kayaking and cruising;  visiting the ancient fern grotto or paddling to a waterfall hike. Visit the magnificent Na Pali Coast via kayak or boat. Snorkel at gentle Lydgate park. Surf or boogie board at Kealia Beach. Kite and wind-surfing is popular too. The choices are broad, adventurous and make great memories.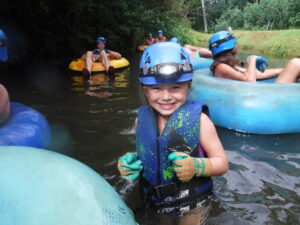 Kauai Backcountry Tubing Adventure: Witness Kauai's spectacular, historic engineering feats as you float down open canals and through five amazing tunnels and flumes engineered and hand-dug circa 1870. Enjoy the wonder and magic of each tunnel illuminated by your headlamp. At the end of your adventure, you are guided to an enchanted picnic area for a delicious lunch and a cool dip in a natural swimming hole. There's no better way to experience the Kaua'i mountains!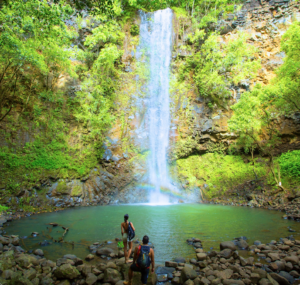 Kayak Kauai:   Water and hiking adventures galore. Try the Wailua River kayak trip up to the north fork where kayaks are parked and a hike up to a waterfall follows. Or rent an SUP. In the summer try the Na Pali Coast paddle trip.  It's all quite amazing.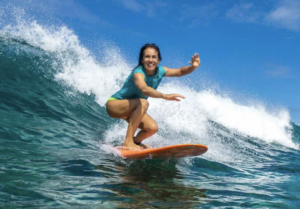 Scotty's Surf Company: Single and double kayaks, short and long surf boards,  plus e-bike rentals are available at this friendly store, staffed with super-knowledgeable folks who have had a ton of experience on Kauai. Soft roof-top racks are provided.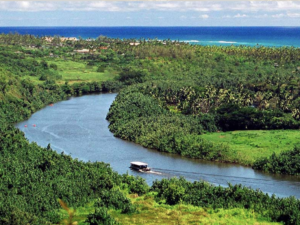 Smith's River Boat Cruises — Want a gentle way to cruise up Hawaii's only navigable river? Smith's takes you on an exploration of this extraordinary resource on a trip filled with history, lore, music, song song and inspiring beauty. The cruise parks at the Fern Grotto dock with a short walk up to this very special place. Enjoy the education, song, entertainment and views.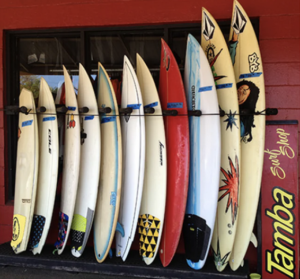 Tamba Surf Company:   Need a surf lesson or rent a board (or boogie board)? Learn from the crew at Tamba Surf Company in Kapaa on how best to catch a wave — enjoyably and safely. Surf clothing and products also available for sale.